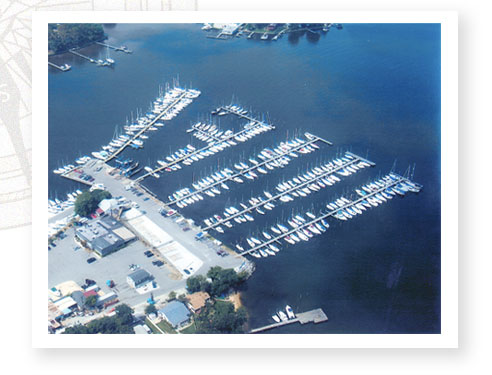 Welcome
to White Rocks Marina.
Located on Rock Creek in Pasadena, Maryland, White Rocks is a premier facility for sail and power boats alike. Located where the Patapsco River meets the Chesapeake Bay, White Rocks is centrally located between Baltimore, Annapolis and upper bay destinations.
Our bathhouse, marina office and ships store are just steps away from our recently rebuilt slips. Each pier features electric, shore power, water, and courtesy lights.
Relax and have a casual water-side lunch at one of our pier-side picnic tables or dine at Mike's Crabhouse North right here in the marina. Come and visit, but be prepared to stay!
Winter Haul Out & Dry Storage - Only $36.75/ft LOA
Winter haul out season is right around the corner! Let us help get your boat ready with the following winter haul out services:
Haul out
Power Spraying the bottom
Blocking up in the yard (marina provides the jack stands and ground tarp)
Launch in the Spring
Dry storage time from October until April 1st
Additional dry storage days are available for only $6.00 per day. We do not charge dry storage on the days that you haul out and launch, just the full days in between.
All haul out and launch services at White Rocks are done by appointment only, so call us at 410-255-3800 or send an e-mail to whiterocksmarina@comcast.net for more details or to schedule an appointment. You are welcome to come work on your boat yourself, or we can provide some services or a list of outside contractors to perform any work on the boat for you. There is both water and electric hook up throughout the yard, and you have 24/7 access to your boat. We also give referral discounts for winter haul out. Call us now!
The Best Slip Rates on the Chesapeake Bay
Our marina can accomodate 21ft - 45 ft boats.